Alarm & Security...
DBA Electric, Inc., is a licensed general electrical contractor, installer, automation control systems designer and manufacturer. We provide engineered solutions, servicing the commercial and agricultural industries, as well as the residential sector. We are C-10 licensed and one of the few UL-approved electrical companies on the Central Coast.
To find out more about our Alarm & Security services please visit us at our new website: DBA Alarm & Security
About DBA Electric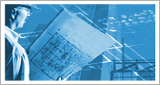 Thank you for taking the time to stop by DBAElectric.com. Our dedicated and experienced staff is designed to provide your company a full range of services in all facets of the industry.
DBA Electric is a general electrical contractor, joint utility installer, automation control systems designer and manufacturer, and engineered solutions provider specializing in the industrial and agricultural industries. C‑10 licensed, DBA Electric is one of a small number of UL‑approved companies supporting these industries, and one of the few companies that can offer both the design and installation in so many areas of the industry.
We pride ourselves in providing our customers a reliable cost efficient design that enhances your requirement whether it is an Automation Design or a commercial building. You can count on DBA to meet your schedule in a timely cost effective manner.
All design and Cad work is done in-house under the supervision of many years of expertise in each individual trade and our own in-house electrical engineer.
Whether you're building a food processing line, automating a manual operation, installing emergency power sources, or managing your energy better, DBA Electric is your one-stop shop.
Contact us today to discuss how our team can fill your needs.